CSCRS Research to Practice Bytes 
CSCRS's Research to Practice Bytes series focuses on multidisciplinary research and practices to advance transportation safety. The series frequently features principles and practices related to Safe Systems and the role of systems science, core themes in CSCRS's initiatives.  
Upcoming session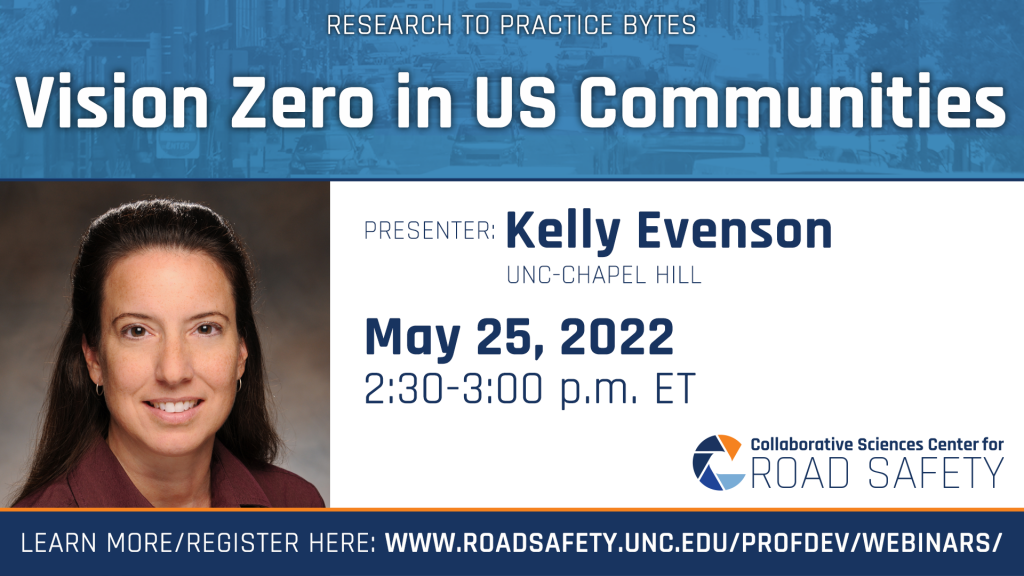 Date/Time: May 25, 2022, 2:30 – 3:00 p.m. Eastern
Description:  Vision Zero aims to reduce fatalities and serious injuries from road traffic crashes to zero through a Safe Systems approach. Not much is known about the extent of uptake of Vision Zero in the United States, or the attributes and functioning of the initiatives. In this session, we will describe characteristics of Vision Zero initiatives across the United States.
Presenter: Kelly Evenson, Professor of Epidemiology at UNC Chapel Hill
Moderator: Dan Gelinne, Senior Research Associate, UNC Highway Safety Research Center
Past webinars
April 27, 2022
Presented by: Irvans Augustin, Co-Founder & Executive Director, Urban Impact Lab, and Eric Dumbaugh, Professor of Urban and Regional Planning at Florida Atlantic University 
Description: Advancing safety requires us to not only enhance our planning and design processes, but to establish local cultural and belief systems that value, prioritize, and advocate for traffic safety. This session highlights an effort to link creative placemaking techniques with traffic safety. Watch the recording. Slide deck.
March 23, 2022
Presented by: Evan Iacobucci, PhD, Postdoctoral Research Associate, Department of City and Regional Planning, University of North Carolina at Chapel Hill, and Dana Magliola, Statewide Program Manager, Freight + Logistics, North Carolina Department of Transportation
Description: Recent surges in urban freight delivery—largely driven by e-commerce and accelerated by the COVID-19 pandemic—have raised concerns surrounding impacts on safety, congestion, curb use, and unauthorized parking of freight vehicles. In this webinar, we highlight recent work that used online conversational data from Reddit to probe challenges delivery drivers face, with a specific focus on parking behavior. In particular, we discuss the implications that these behaviors—and the conditions that precipitate them—have for the safety of road users. Finally, we will discuss primary types of and reasons for unauthorized parking behavior, perceptions of parking enforcement, and interactions drivers reported with other road users. Watch the recording. Slide deck.
February 23, 2022
Presented by: Chris Cherry, Associate Professor of Civil and Environmental Engineering, University of Tennessee, Knoxville, and Rebecca Sanders, Founder and Principal Investigator, Safe Streets Research
Description: Micromobility vehicles have expanded faster than our traffic management and injury surveillance systems can adapt. This webinar will highlight the results of past work aiming to understand safety through the lens of survey questionnaires and police crash data analysis. The webinar will also introduce a survey resource that can be used to consistently measure behavior between cities. Last, the presenters will discuss some direct observation behavior analysis that is ongoing to untangle the factors that influence safe riding behavior. Lean more about the project here. Watch the recording. Slide deck.
January 26, 2022
Presented by: Katie Harmon, UNC Highway Safety Research Center, and Anna Waller, Director, Carolina Center for Health Informatics
Description: Linking motor vehicle crash (MVC) and healthcare data has the potential to generate a more comprehensive understanding of MVC injuries, including pedestrian injuries. However, building a successful, sustainable system of linked data involves engaging funders and stakeholders, obtaining data use permissions, testing and implementing linkage methods, and disseminating results to a diverse audience. This webinar will highlight the ups and downs of North Carolina's data linkage experience, including how linked data have been used to answer critical questions about pedestrian injuries. Watch the recording. Slide deck.
July 1, 2021
Presented by: Seth LaJeunesse, UNC Highway Safety Research Center, and Sydney Nicolla, UNC Hussman School of Journalism and Media
Description: The way TV news stations cover traffic crashes and injuries both shape and are shaped by public perceptions about what is normal, right, and just about our transportation systems. News media frames tell us who was involved in traffic crashes, who is responsible for them, and often imply what might be done to address road user injury. CSCRS researchers, Seth LaJeunesse—with the UNC Highway Safety Research Center—and Sydney Nicolla—with the UNC Hussman School of Journalism and Media—along with a multi-disciplinary UNC research team analyzed more than 1,000 crash-featuring TV news stories in the U.S., spanning the years 2012-2019. Findings reveal clear patterns of reporting, such as focusing on traffic congestion, placing responsibility solely on road users, and treating most crashes as isolated from other crashes. Seth and Sydney will share details on the study's methods, findings, and their development of a Media Framing Guide designed to motivate transportation and public health professionals to work with news journalists to help shape the narrative around traffic injury. Learn more about this project here. Watch the recording.
April 28, 2021
Presented by: Krista Nordback, UNC Highway Safety Research Center, and Wes Kumfer, UNC Highway Safety Research Center.
Description: Explore crash, exposure and infrastructure datasets from around the U.S. using the National Pedestrian and Bicycle Safety Data Clearinghouse available at pedbikedata.org. Designed to help safety researchers find readily available datasets for study, the clearinghouse serves as a central website and search tool to find available data sources for traffic safety analysis. It allows researchers to search more than 3,000 pedestrian and bicycle safety-related data resources by data type (collision, counts, infrastructure), data format, availability, and geographic scale (national, state, region, county or city). In this webinar, presenters will demonstrate how to use the clearinghouse, including new search geographic and temporal data search capabilities, and discuss strengths and shortcomings of these datasets. Learn more about the project here. Watch the recording.
February 24, 2021
Presented by: Eric Dumbaugh, Florida Atlantic University.
Description: The literature on traffic safety has consistently found that lower-income and minority populations are disproportionately at risk of being injured or killed while walking or bicycling. Nonetheless, there has been little meaningful examination of the nature of this risk. This webinar presents the results of an epidemiological examination of pedestrians and bicyclists in South Florida. It details four pedestrian cohorts and two bicyclist cohorts who are at specific risk of injury or death. Contrary to the conventional wisdom, drug or alcohol use did not prove to be a major contributing factor; instead, pedestrian and bicyclist collisions appear to be associated with everyday travel patterns, with risk moderated by the design and configuration of the built environment. Watch the recording.
December 8, 2020
Presented by: Kelly Evenson, UNC-Chapel Hill, & Seth LaJeunesse, UNC Highway Safety Research Center. Leah Shahum, of the Vision Zero Network, will join the presenters to contextualize this research.
Description:  A Vision Zero plan is a public document that provides the vision for future efforts to reduce traffic fatalities and serious injuries to zero. Vision Zero planning may be enhanced through the use of high quality plans. Our team abstracted Vision Zero plans and identified ways in which plans could be strengthened. Guidance based on the review of existing plans was recently released in the "Guide to Developing a Vision Zero Plan". This webinar will discuss the findings from the plan abstraction and provide actionable feedback for communities creating new Vision Zero plans or updating current Vision Zero plans. We will also highlight the Vision Zero library resource. Watch the recording.
September 30, 2020
Presented by: Missy Cummings, Safety Advisor, National Highway Traffic Administration (formerly with Duke University)
Description: In order to determine how Tesla Model 3's perception, autopilot, and driver monitoring systems interact with one another, and also to determine the scale of between- and within-car variability, a series of four on-road tests were conducted. Three sets of tests were conducted on a closed track and one was conducted on a public highway. This webinar will examine the results of those tests, which show wide variability across and within three Tesla Model 3s, with excellent performance in some cases but also likely catastrophic performance in others. Watch the recording.