It's time for a fresh approach.
The ​Collaborative ​Sciences ​Center ​for ​Road ​Safety ​will ​accelerate ​progress ​in ​reducing ​transport ​injuries ​and ​fatalities ​by ​utilizing ​a ​systems ​approach ​to ​bring ​perspectives ​from ​planning, ​engineering, ​public ​health, ​data ​science ​and ​robotics ​to ​the ​road ​safety ​field.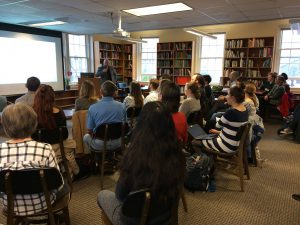 Coffee & Conversation: A Safe Systems Exploration of Transportation
On February 6, CSCRS hosted its second Coffee & Conversation featuring Nick Norboge, Texas A&M Transportation Institute. The next Coffee & Conversation will be held February 20, starting at 8:30 a.m., with discussion leader Alan Dellapenna, Branch Head, Injury and Violence Prevention, NC DHHS, facilitating this topic: "There Will Be Lawyers: Legal and Political Considerations for Safe Systems."
How would a safe systems approach to road safety work in the U.S.? Explore this topic and other CSCRS developments in the most recent edition of Crossroads newsletter.
What was the CSCRS team doing at the TRB Annual Meeting, January 7–11, 2018, in Washington, D.C.? A lot! Check out this listing of CSCRS team member activities at the annual event.