How would a safe systems approach to road safety work in the U.S.?
What is a safe systems approach to safety? It depends to whom you're talking, because different audiences view the term "safe systems" in different ways.
In the transportation field, many think of the safe systems concept that originated in Sweden in the 1990s and has since been adopted in other countries. A core tenet of this approach is that even though road users make mistakes, these mistakes should not result in death, so the model envisions safe systems as a roadway system designed to prevent death despite human errors. This perspective also acknowledges that a safe system requires a specific method focusing on the built environment and a proactive approach to address risk.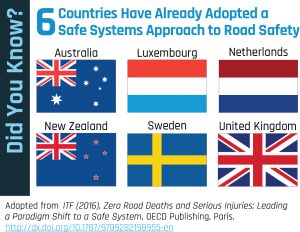 Additionally, "systems thinking" or "systems science" concepts from other disciplines offer an opportunity to expand upon the Swedish approach to safe systems. In the public health field, systems science requires collaborative problem-solving and directing partners toward a shared vision. The public health community has also developed a robust set of qualitative and quantitative tools and methods to help understand the elements in a complex system.
CSCRS mission and goals
CSCRS is taking a new look at the safe systems approach to safety. CSCRS's mission is to create and exchange knowledge to advance transportation safety through a multidisciplinary, safe systems approach. By engaging perspectives from behavioral, engineering, epidemiological, technological and planning disciplines, CSCRS is implementing new research, education and professional development activities designed to improve safety on U.S. roadways.
These key CSCRS goals outline the Center's core approach:
Safe systems principles and approaches are shared, understood and adopted by traffic safety professionals and stakeholders.
Cutting-edge research, tools, data and resources compatible with a safe systems approach are developed and utilized by professionals and the public at large to better understand and address existing and emerging road safety issues.
A growing body of students and future leaders are engaged and well trained in road safety principles and safe systems approaches and methods.
CSCRS research in progress
Initial CSCRS research projects are looking at the safe systems approach from a foundational level, seeking to further explore how communities are defining safe systems and incorporating public health and systems-thinking approaches.
In one of the eight CSCRS year one research projects, entitled "Safe Systems Synthesis & Summit," researchers are developing a concrete definition of the safe systems concept for the U.S. with buy-in from key stakeholders. In another CSCRS year one project, "Structures of Stakeholder Relationships in Making Road Safety Decisions," CSCRS researchers are utilizing systems science tools to help reveal potential new partners and relationships for engagement in transportation safety that ultimately result in high-quality transportation safety decisions.
Future CSCRS safe systems research projects and activities broadly include the following:
research on the barriers to implementing a safe system approach and the creation of tools to aid implementation;
development of a systematic safety-based architecture/framework including terminology and components; and
educational opportunities including a webinar series that explore safe systems.
Looking ahead
CSCRS has hit the ground running with goals and objectives to make impactful changes to and within the U.S. transportation field. Many states and cities have adopted zero-fatality initiatives over the past decade. Making that goal a reality requires a new comprehensive approach to our road safety challenges, and a more robust understanding of the science and evidence behind safe systems will be critical.
Learn more about safe systems
Here are some resources that relate to safe systems and systems thinking:
---
CSCRS to co-host Safety Sunday networking reception at TRB Annual Meeting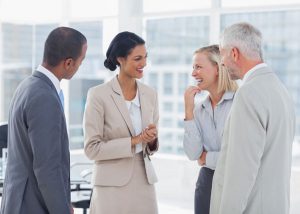 CSCRS and the Southeastern Transportation Center will co-host Safety Sunday, a safety conversations and networking reception on Sunday, January 7, 2018, in conjunction with the Transportation Research Board 97th Annual Meeting in Washington, D.C. View the invitation here. 
Please mark your calendars to stop by this event to discuss key safety-related research topics with safety University Transportation Center researchers, staff, students and transportation practitioners.
The casual reception will be held 5:00 – 6:30 PM EST in the Independence D Ballroom (Meeting Level 4) at the Marriott Marquis Washington DC, located at 901 Massachusetts Avenue NW, Washington, D.C., 20001. Refreshments will be provided, and a cash bar will be available.
---
Two UNC-Chapel Hill city and regional planning students selected as CSCRS Fellows
In October, Sarah Johnson and Alyson West, both master's students in UNC-Chapel Hill's Department of City and Regional Planning, were named as CSCRS Fellows. Johnson and West will each receive a research stipend and will share information about their projects through CSCRS.
Johnson's research entails analysis of city-level pedestrian and bicycle crash data to identify dangerous roadway configurations, and considers context-sensitive design interventions to improve pedestrian and bicycle safety in North Carolina. Johnson explained that while her research "is focused on creating safer and more accessible networks for people who walk and bike in North Carolina, it is informed by best practices from across the country."
Johnson said, "For me, this fellowship is an opportunity to combine my interests in planning and landscape architecture. I am looking forward to exploring the relationship between urban design and a safety-first approach to active transportation."
For Alyson West's master's project, West explained that she would create a public dashboard that shows survey responses to the Association of Pedestrian and Bicycle Professionals 2016 Women's Cycling Survey, with the goal of providing practitioners in the field with insight on how to increase cycling mode shares in their communities. "Safety ranks as a highly significant factor in the data, as the survey touches on issues of real and perceived safety, connectivity, ideal facilities and barriers to cycling, among other things," said West.
West added, "As a user of the transportation system, as well as an aspiring transportation planner, I am honored to be selected as a CSCRS Fellow. Prioritizing multimodal road safety is central to creating more equitable, accessible and livable communities, and I am grateful for the opportunity to contribute knowledge to this field."
---
Sandt to become CSCRS director in January 2018
Starting January 1, 2018, Dr. Laura Sandt will begin serving as director of CSCRS. Sandt has been an integral part of the CSCRS team from the conception of the original proposal materials, to implementation and management of the grant since the UNC Highway Safety Research Center was awarded the UTC grant in November 2016.
In her current position of CSCRS Research Program Manager, Sandt successfully coordinated and directed the first round of funded CSCRS awards (announced February 2017), has been involved in the strategic management and guidance efforts for these projects, and is leading the development of the second round of funded CSCRS awards. As a CSCRS researcher and in the director role, Sandt will continue to lead the strategic direction and implementation of the CSCRS research program.
Sandt joined the UNC Highway Safety Research Center in 2004 and is active in a variety of research areas including intervention evaluations and studies focusing on pedestrian and bicycle safety and other modes of travel. She has a Ph.D. in epidemiology from the UNC-Chapel Hill Gillings School of Global Public Health, with a concentration in injury prevention. She also holds an M.R.P. from UNC-Chapel Hill with a concentration in transportation and land use. In addition, she serves as director for the Pedestrian and Bicycle Information Center, a federal clearinghouse of pedestrian- and bicycle-related training materials and resources. Learn more about Sandt.
Current CSCRS Director David Harkey is leaving the position at the end of 2017 to become president of the Insurance Institute for Highway Safety and the Highway Loss Data Institute.
Recent CSCRS highlights
Want to learn more about CSCRS projects and progress?
CSCRS submitted its first Program Progress Performance Report in June 2017. The PPPR provides a record of CSCRS's activities for its first six months and includes information on research, collaborator presentations and more. This report fulfills a grant-reporting requirement established by the U.S. Department of Transportation. Read more.
CSCRS teams meet to work on research road ahead
In August 2017, CSCRS hosted its Executive Committee and its Advisory Board for strategic planning meetings at the UNC Highway Safety Research Center in Chapel Hill, N.C. The teams held in-depth, dynamic discussions during both meetings about the safe systems approach to road safety, research priorities and much more.
Happy anniversary to UTK's Center for Transportation Research!
CSCRS consortium member University of Tennessee, Knoxville's Center for Transportation Research recently celebrated its 45th anniversary. Read more.
---
CSCRS on the go
Clamann and Sandt present at Automated Vehicles Symposium
CSCRS Associate Director Michael Clamann, Duke University, and Research Programs Manager Laura Sandt presented during the breakout session "Challenges and Opportunities for the Intersection of Vulnerable Road Users (VRU) and AVs" at the 2017 Automated Vehicles Symposium in July 2017 in San Francisco, Calif. Clamann moderated the panel "Technology, Infrastructure, and Policy Considerations," during which he provided a brief overview of the state of autonomous vehicle policy addressing vulnerable road users. Sandt moderated the "Vulnerable Road User Safety Needs and Concerns" panel and provided an overview of automated vehicle/vulnerable road user research. Read more.
Harkey attends IIHS truck underguard protection test
In August 2017, CSCRS Director David Harkey attended the test of a device that attaches to the sides of a tractor-trailer; the device successfully prevented a midsize car from sliding underneath the trailer in a 40 m.p.h. crash test. The test was conducted by the Insurance Institute for Highway Safety in Arlington, Va. Read more.
CSCRS researchers take part in International Cycling Safety Conference
CSCRS Associate Director Offer Grembek of the University of California, Berkeley Safe Transportation Research & Education Center, and researcher Chris Cherry, University of Tennessee, Knoxville, attended the 2017 International Cycling Safety Conference in September 2017 at the UC Davis Conference Center in Davis, Calif. Grembek presented on the paper "A Behavior Modeling Approach to Bicycle Performance Measures," which he co-authored. Cherry presented the poster "Better data integration to create a complete picture for cycling safety."
CSCRS attends NC A&T transportation mobility symposium
CSCRS Education & Outreach Programs Manager Caroline Mozingo attended the North Carolina A&T State University Center for Advanced Transportation Mobility Annual Symposium in Greensboro, N.C., in October 2017. Former U.S. Secretary of Transportation Anthony Foxx was the featured speaker. Foxx stated that the main challenge for 21st century transportation is the seamless integration of different transportation modes. Read more.
CSCRS associate directors present at UTC Conference for the Southeastern Region
CSCRS Associate Directors Eric Dumbaugh, Florida Atlantic University School of Urban & Regional Planning, and Noreen McDonald attended the 5th Annual UTC Conference for the Southeastern Region in Gainesville, Fla., in November 2017. The event was hosted by the Southeastern Transportation Research, Innovation, Development and Education Center (STRIDE), which is the 2016 USDOT Region 4 (Southeast) University Transportation Center at the University of Florida Transportation Institute. Dumbaugh presented "Integrating 'Safe Systems' into Land Use Planning: Examining the Role of Land Use Codes & Development Regulations on the Incidence & Severity of Traffic-Related Death & Injury," and McDonald moderated a session about the planning perspective. Read more.
In addition to the above events, CSCRS continues to attend relevant conferences and meetings to forge connections with transportation, public health, computer science and other peers. The following are road safety events that CSCRS staff will attend over the next several months:
Transportation Research Board 97th Annual Meeting
January 7-11, 2018
Washington, D.C.
Lifesavers
April 22-24, 2018
San Antonio, Texas
---
Join CSCRS on social media
Like our Facebook page and follow us on Twitter.
Sign up to receive CSCRS news and updates.
CSCRS Crossroads newsletters are archived here.