Envision a new future for road safety at the Safe Systems Summit
The Safe Systems Summit: Redefining Transportation Safety offers a unique learning journey to a new vision for the future of road safety. The event will be held Sept. 13-14, 2018, at the Durham Convention Center in Durham, N.C.
The Summit offers an inclusive and interactive learning environment to explore the underlying systems driving the national rise in traffic deaths, share findings from innovative new research and develop insights into reducing transportation injuries and fatalities by utilizing both Safe Systems and systems science principles, tools and techniques. Join participants from various disciplines to explore systems together, discuss advanced technologies and the role of data integration, and exchange ideas with national and international experts. Leave with new ideas, connections, resources and skills.
The Summit faculty represents a variety of expert perspectives, and additional speakers from the U.S. Department of Transportation, New York City Department of Transportation and other organizations will soon join the program. Sessions cover a range of topics including technology, data, community engagement and research.
The Summit's two keynote speakers will address different parts of the Safe Systems spectrum:
Rod McClure, Dean, Faculty of Medicine and Health, University of New England, will challenge our assumptions regarding Safe Systems and offer insights into how we can reduce the global road toll.
Phil Koopman, Associate Professor, Carnegie Mellon University Department of Electrical and Computer Engineering, will offer perspective on the future of transportation technology and safety – including self-driving cars – from an interdisciplinary perspective.
The Summit is co-presented by CSCRS and the North Carolina Governor's Highway Safety Program. It builds upon the USDOT University Transportation Center Spotlight meeting tradition, providing a unique opportunity for university-based researchers, students, private and government entities, non-profits and others to gather and collectively improve upon the practice of transportation safety in the U.S.
Registration costs are low ($35 for participants, $20 for students). Learn more about the program, opportunities to submit a poster, and travel and accommodation details.
Interested in becoming a Summit sponsor?
CSCRS offers organizations a variety of opportunities to show support for the Summit and align their brands with CSCRS's mission. Learn more about sponsorship levels, and/or contact Jennifer Palcher-Silliman (919-843-4859) for more details
Help spread the word
This one-page flier is perfect for printing or emailing to share with your colleagues and professional networks who would benefit by attending the Summit. Please help promote the #SafeSystemsSummit, and get in touch if you have ideas of new communities to which we should communicate.
---
Submit an abstract for the Safe Systems Summit poster showcase
Students and researchers are invited to showcase transportation-related research, capstone and community projects as poster presentations at the Summit. The poster showcase will be held Thursday, Sept. 13, 2018, from 5 – 7 p.m.
Submitting an abstract is easy, as it is built into the registration process. Visit the poster details webpage for a link to register and to submit a 500-word poster abstract; the submission deadline is Aug. 3, 2018. While the research poster showcase is open to both students and non-student researchers, only students will be eligible to compete for first-, second-, and third-place prizes ($500, $350, and $150, respectively).
For more information about the Summit research poster showcase, visit here or contact Marie Melendez, 919-962-8713 or info@roadsafety.unc.edu.
---
CSCRS selects 13 new transportation safety research projects
In Spring 2018, CSCRS selected 13 new research projects to explore a range of transportation safety topics including autonomous vehicles, shared mobility, Vision Zero and linking crash data.
This is the second slate of research projects selected by the Center since the University of North Carolina at Chapel Hill received the U.S. Department of Transportation National University Transportation Center grant in November 2016, bringing the total number of CSCRS funded research projects to 21. The new research projects, selected through a rigorous peer-review process, represent $1,046,462 in funding.
Each project contributes to realizing the CSCRS goal to create and exchange knowledge to advance transportation safety through a multidisciplinary, Safe Systems approach, and will be conducted by researchers across the Center's five consortium campuses (University of California, Berkeley; UNC-Chapel Hill; Duke University; Florida Atlantic University; and University of Tennessee, Knoxville). The 13 new CSCRS research projects include:
To learn more about all CSCRS research projects and activities, visit roadsafety.unc.edu/research.
---
---
Systems spotlight: CSCRS Systems resources
CSCRS provides a listing of resources that relate to Safe Systems concepts and programs, as well as systems thinking and systems science. This feature also includes examples showing the application of systems thinking to transportation safety issues. 
---
CSCRS highlights
UTK hosts first CSI Camp for middle school students
Sixteen Tennessee middle schoolers attended the UTK CSI: Crash Scene Investigation Summer Camp held July 9-13, 2018, to find out how to pick apart evidence and discover what really happened in several crashes. Working at the National Transportation Research Center in Knoxville, Tenn., these students: learned how to measure vehicle crush to determine how fast the vehicle was going on impact; looked at real dash-cam crash videos; and evaluated three crash scenarios laid out on pavement.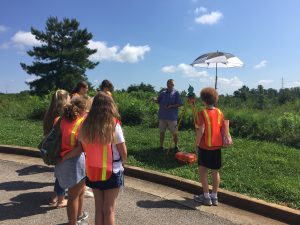 The approach is based on examining forensic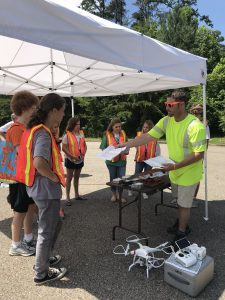 evidence to find the facts, much like the way crimes are solved in the CSI television series. The camp goal was to bring home the realities of distracted driving, which are often shocking and sobering for soon-to-be young drivers.
Camp organizers also used the Southeastern Transportation Center Seatbelt Convincer to demonstrate how jolting a low-speed impact actually is. Then they used accelerometer data to talk about the forces in play in such "harmless" crashes.
Crash Scene Investigation is set to become an annual summer camp that will develop an exportable package with lesson plans, supply lists and other helpful information for use in other locations.
FAU launches lecture series with talk by Peter Norton
FAU launched its Safe Streets Lecture Series in March 2018 with a talk by Peter Norton, Professor of History at the University of Virginia (and author of the book featured in this issue's CSCRS book shelf), on "The Invention of the Motor Age Street." View a video of the lecture here. 
Did you know: Peter Norton is participating in the Safe Systems Summit in the morning on Friday, Sept. 14, when he will help lead an interactive discussion centered around connected and autonomous vehicles. Dr. Norton will frame the discussion by identifying history's often neglected but important lessons for automated vehicles' future.
Two UCB students chosen as CSCRS Fellows
UCB recently announced the selection of two graduate students as 2018-2019 CSCRS research fellows:
Elizabeth Resor, doctoral student at the School of Information, will research road safety efforts and research in Africa, which has the highest rate of road safety fatalities despite having the lowest rate of motorization, to gain insights that may inform implementation of the Safe Systems approach to road safety in the U.S.
Cynthia Armour, graduate student candidate for concurrent degrees in Public Health and City and Regional Planning, will work on a literature review centered on autonomous vehicles and public health.
Both students will share their research findings with the CSCRS community. Learn more about UCB's CSCRS Fellows here. 
Want to learn more about CSCRS projects and progress?
CSCRS submitted its second Program Progress Performance Report in April 2018. This latest PPPR provides a record of CSCRS's activities for the period between June 1, 2017, and March 31, 2018, and includes information on research, education and professional development activities, collaborator presentations and more. This report fulfills a grant-reporting requirement established by USDOT. Read more. 
---
CSCRS book shelf
"Fighting Traffic: The Dawn of the Motor Age in the American City," Peter D Norton, MIT Press
By Alyson West
Alyson West, Junior Research Associate at the UNC Highway Safety Research Center, is a former CSCRS Scholar and Fellow. Her master's project involved creating a public dashboard that shows survey responses to the Association of Pedestrian and Bicycle Professionals' 2016 Women's Cycling Survey, with the goal of providing practitioners in the field with insight on how to increase cycling mode shares in their communities. CSCRS asked her what was on her summer 2018 reading list: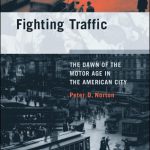 Peter Norton's "Fighting Traffic: The Dawn of the Motor Age in the American City" came highly recommended, and focuses on an essential component of transportation history, namely, the repurposing of urban space to accommodate a new mode of transportation, and the redefining of public right of way to prioritize the movement of automobiles instead of people. As Norton tells it: "The struggle for the future of urban transportation was less a contest between vehicles than a competition for their urban medium: the street." Norton explores the many interest groups who influenced the evolution in the understanding of urban streets and the technological framing that contributed to the changing perspectives from the position of broad social issues of 'Justice,' 'Efficiency' and 'Freedom.' With luck, a more thorough comprehension of this background will improve my work as a transportation planner influencing the future.
---
Podcast examines Road to Zero report
The Institute of Transportation Engineers series ITE Talks Transportation recently featured the podcast "Road to Zero Report Advances Vision Zero Strategies" exploring the April 2018 report "The Road to Zero: A Vision for Achieving Zero Roadway Deaths by 2050." CSCRS Advisory Board member Jeff Paniati, ITE Executive Director, and Debbie Hersman, President & CEO, National Safety Council, and Road to Zero Coalition Chair, discussed the strategies and concepts outlined in the report during the podcast. Listen to the podcast here.
---
Join CSCRS on social media
Like our Facebook page and follow us on Twitter.
Sign up to receive CSCRS news and updates.
CSCRS Crossroads newsletters are archived here.