CSCRS activities @ TRB 2022
CSCRS research will be showcased in dozens of workshops, lectern presentations, posters, and more at the Transportation Research Board (TRB) 101st Annual Meeting in January 2022. Examples of topics include:
Making Safe Systems a Reality: Planning to Implementation, Sunday, January 9, 9 AM – 12 PM Eastern
Livability Versus Safety Trade-Offs in the Urban Road Design Context, Sunday, January 9, 1:30 – 4:30 PM Eastern
Planning for Accessible, Equitable Cities, Monday, January 10, 10:30 AM – 12 PM Eastern
View the full list of CSCRS activities at TRB 2022.
---
Next CSCRS webinars focus on data linkage and micromobility safety behavior
CSCRS will continue its webinar series focused on collaborative research advancing transportation safety with a session on data linkage in January 2022. Reserve your spot today!
Title: Building a MVC injury system of linked data: Lessons learned & questions answered about pedestrian injuries
Date/time: Wednesday, January 26, 2022, 2:30 – 3:00 PM Eastern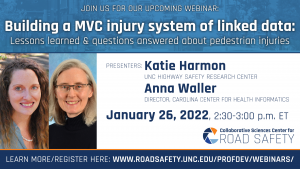 Description: Linking motor vehicle crash (MVC) and healthcare data has the potential to generate a more comprehensive understanding of MVC injuries, including pedestrian injuries. However, building a successful, sustainable system of linked data involves engaging funders and stakeholders, obtaining data use permissions, testing and implementing linkage methods, and disseminating results to a diverse audience. This webinar will highlight the ups and downs of North Carolina's data linkage experience, including how linked data have been used to answer critical questions about pedestrian injuries.
Presenters:
Katie Harmon, Research Associate, UNC Highway Safety Research Center (HSRC)
Anna Waller, Research Professor, Department of Emergency Medicine, UNC School of Medicine; Director, Carolina Center for Health Informatics; Adjunct Associate Professor, UNC Gillings School of Global Public Health
Moderator: Dan Gelinne, Senior Research Associate, UNC Highway Safety Research Center
Register: https://unc.zoom.us/webinar/register/WN_Df7rb9-FRjeEX_1yxV09Ww
The following webinar will be held Feb. 23, 2022, and will feature Chris Cherry, University of Tennessee, Knoxville, discussing the project Understanding micromobility safety behavior and standardizing safety metrics for transportation system integration. More details and a link to register will be available soon.
Recordings from previous webinars are also available on the series page.
---
CSCRS expresses support for Missy Cummings NHTSA appointment 
CSCRS's consortium members sent a letter to U.S. Secretary of Transportation Pete Buttigieg on December 8, 2021, expressing full support for the appointment of Mary "Missy" Cummings as a senior advisor for the National Highway Traffic Safety Administration (NHTSA). The letter stated that "Dr. Cummings has demonstrated time and time again a deep understanding of sound science and the core principles of Safe Systems, making her a perfect choice to inform policies on advanced driver assistance technologies, human-automation interaction, and other important developments that impact road safety." Read the full letter.
---
CSCRS creates hub for research-to-practice resources
CSCRS has curated a new collection of resources that reflects how Safe Systems principles and systems science principles can be applied in real-world scenarios and integrated into injury prevention programs. Creating Safer Systems and Healthier Communities: Resource Hub is intended to serve as a hub for research-to-practice innovation.
---
2021 CSCRS Student of the Year, Emma Vinella-Brusher
CSCRS is thrilled to announce that Emma Vinella-Brusher, currently pursuing a dual master's degree in Public Health and City and Regional Planning at UNC Chapel Hill, is the 2021 Outstanding Student of the Year. Vinella-Brusher will be honored in January 2022 during the Council of University Transportation Center's virtual 2022 Awards Banquet (registration is free). CSCRS chose Vinella-Brusher as its outstanding student as part of a U.S. Department of Transportation (USDOT) program honoring students from University Transportation Centers who have demonstrated achievements in academic performance, research, leadership, professionalism, and potential future contributions in the transportation field. Read more about Emma.
---
Systems spotlight: Infrastructure Act includes provisions referencing Safe System approach to road safety
Continuing the trend of Safe Systems and systems thinking principles being integrated into public policies, the Infrastructure Investment and Jobs Act that became law on November 15, 2021, includes language requiring that states "take into consideration" a Safe System approach when carrying out vulnerable road user safety assessments. The incorporation of systems language into the Act aligns with CSCRS's mission to to create and exchange knowledge to advance transportation safety through a multidisciplinary, systems-based approach.
The law defines the Safe System approach as follows:
The term `safe system approach' means a roadway design—
that emphasizes minimizing the risk of injury or fatality to road users; and
that–
takes into consideration the possibility and likelihood of human error;
accommodates human injury tolerance by taking into consideration likely accident types, resulting impact forces, and the ability of the human body to withstand impact forces; and
takes into consideration vulnerable road users.
In addition, the law contains other provisions related to road safety, such as:
A provision allowing for grants to states, cities, and tribes for safe routes to school activities.
---
Education and professional development: CSCRS showcases multiple learning opportunities
CSCRS continues to provide and participate in a variety of learning activities, including:
On November 4, 2021, Tom Flood of Rovélo Creative presented the webinar Results Not Accidents: Reframing and Rehumanizing Road Safety as part of the UNC Department of City and Regional Planning's "Roadways for a Safer Future" public lecture series. A video summary is available.
On November 4, 2021, CSCRS Director Laura Sandt was the closing plenary speaker for the Gulf Coast Safe Streets Hybrid Summit.
Eric Dumbaugh, Florida Atlantic University, presented during the October 21, 2021, online session Safe Roads, part of the Florida Department of Transportation's Transplex training series. (Watching the video requires registration, though the slides are publicly available.)
CSCRS researchers explored key themes of the Summer Learning Series during this interactive panel discussion held on October 6, 2021, during the HSRC-managed 2021 NCDOT Research & Innovation Summit.

Other CSCRS-related sessions during the NCDOT Summit:
CSCRS researcher Seth LaJeunesse, HSRC, took part in the October 6, 2021, roundtable discussion Safe Roads hosted by the National Transportation Safety Board (NTSB) and moderated by Jennifer Hormendy, NTSB Chair. Jeff Paniati, CSCRS Advisory Board member and Executive Director and CEO, Institute of Transportation Engineers, also participated on the panel.
Laura Sandt presented on "Data Justice in AV Research and Simulation" during the October 2021 Safety Research Using Simulation (SAFER-SIM) Virtual Symposium – Panel Discussion on Emerging Transportation Safety Themes.
Seth LaJeunesse also served as a panelist for the September 9, 2021, discussion The Many Faces of Environmental (In)Justice as part of the Race, Racism and Racial Equity (R3) Symposium co-hosted by UNC's University Office for Diversity and Inclusion, the Jordan Institute for Families, and the UNC School of Social Work.
Session recordings for the CSCRS-managed National Travel Monitoring Exposition and Conference (NaTMEC) held in June 2021 are available.
---
Other CSCRS highlights
A quick rundown of additional recent CSCRS activities:
For more on CSCRS's activities from the last several months, view the most recent Semi-Annual Progress Report.
---
---
CSCRS bookshelf
"Right of Way: Race, Class, and the Silent Epidemic of Pedestrian Deaths in America," Angie Schmitt, Island Press
By Meiqing Li
Meiqing Li is a CSCRS Road Safety Graduate Fellow and PhD Candidate in City and Regional Planning at UCB.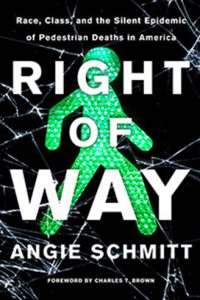 Angie Schmitt's "Right of Way" is a comprehensive read for whomever wants to learn more about the current landscape of pedestrian safety in the United States. It presents stories from communities, as well as findings and statistics from the latest academic research that provoke readers to rethink the status quo of American traffic engineering, vehicle design, institution, and social norms concerning pedestrian safety. As Schmitt puts, "pedestrian deaths are part of a systemic problem with systemic causes," yet it has not drawn enough attention as compared with other kinds of deaths. It requires an initial recognition of the problem, and coordination between the public, government, transportation professionals, media, auto industry, and many others to work towards prioritizing life and safety over the convenience of driving.
Apart from advocating for a cultural shift, this book provides valuable insights into many topics for further research, especially at the frontier of technological innovation, for example, the interaction between self-driving cars and pedestrians, which raises critical behavioral and ethical questions.
---
Partner resources
Opportunities provided by partners of CSCRS:
---
Join CSCRS on social media
Like our Facebook page and follow us on Twitter.
Sign up to receive CSCRS news and updates.
CSCRS Crossroads newsletters are archived here.