2021 CSCRS Student of the Year, Emma Vinella-Brusher
CSCRS is excited to announce that Emma Vinella-Brusher, currently pursuing a dual master's degree in Public Health and City and Regional Planning at UNC Chapel Hill, is the 2021 Outstanding Student of the Year. Vinella-Brusher was honored on January 8, 2022, during the Council of University Transportation Center's virtual 2022 Awards Banquet.
CSCRS chose Vinella-Brusher as its outstanding student as part of a U.S. Department of Transportation program honoring students from University Transportation Centers who have demonstrated achievements in academic performance, research, leadership, professionalism, and potential future contributions in the transportation field.
"The workforce demands cross-trained students who can work to achieve sustainable safety. Emma is an outstanding embodiment of this model," said CSCRS researcher Noreen McDonald, CSCRS Associate Director and Department Chair, Thomas Willis Lambeth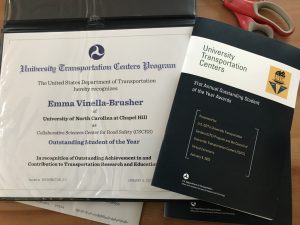 Distinguished Professor, Director of Carolina Transportation Program, in her nomination letter for Vinella-Brusher. "She understands the needs for health, engineering, and planning perspectives to achieve a safe and equitable transport system."
Prior to coming to UNC, Vinella-Brusher worked for the U.S. Department of Transportation's Volpe Center for four years on projects related to equity, safety of vulnerable road users, and climate resilience; she also led the Volpe Center's Transportation Equity and Sustainability programs. Most recently, she was an intern at the District Department of Transportation in Washington, DC, where she worked to increase safe mobility for DC residents through their low-income transit fare pilot. Vinella-Brusher's ultimate goal is to reduce transportation barriers to food, healthcare, greenspace, and other vital goods and services.
"I am so honored to receive this award! CSCRS has supported my academic journey and enabled me to pursue research in the important intersection of transportation planning and public health.," said Vinella Brusher. "I look forward to contributing to the creation of a safer, more equitable transportation system."
Emma is expected to graduate in 2023, after which she plans to pursue a career in the public sector.
This is the fifth year that CSCRS has chosen a student of the year. The 2017 student was Becky Naumann of UNC, the 2018 student was Ali Boggs of UTK, the 2019 student was Mary Wolfe of UNC, and the 2020 student was Benjamin Bauchwitz of Duke.