2017 CSCRS Student of the Year, Dr. Becky Naumann, Honored at TRB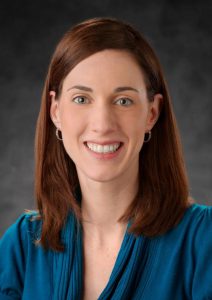 On January 6, 2018, the 2017 Collaborative ​Sciences ​Center ​for ​Road ​Safety Outstanding Student of the Year, Becky Naumann, Ph.D., was honored at the Council of University Transportation Center's 27th Annual Outstanding Student of the Year Awards ceremony. The ceremony was held in conjunction with the 2018 Transportation Research Board Annual Meeting in Washington, D.C. Naumann recently earned her doctorate in epidemiology from UNC, where she was a Royster fellow, and  is currently a Senior Research Scientist for UNC's Injury Prevention Research Center.
CSCRS selected Naumann as its outstanding student  as part of a U.S. Department of Transportation program honoring students from University Transportation Centers who have demonstrated achievements in academic performance, research, leadership, professionalism, and potential future contributions in the transportation field. Naumann has been actively engaged in applied road safety research with CSCRS, specifically related to examining organizational networks of transportation safety partners.
"Becky is an outstanding candidate for UTC SOY," says Stephen W. Marshall, Ph.D., Director of the Injury Prevention Research Center at UNC Chapel Hill, in his letter of recommendation endorsing Naumann. "Her research is innovative because it integrates highway safety data with public health concepts [and] reflects her deep knowledge of highway safety data resources and topic areas."
Naumann holds a Master of Science degree in Public Health from Emory University and a Bachelor of Science degree in Environmental Health from the University of Georgia. Prior to beginning her doctoral training, she worked as an epidemiologist on the Transportation Safety Team in the National Center for Injury Prevention and Control at the Centers for Disease Control and Prevention. She has been active in transportation safety research for more than 10 years and has published 22 articles, co-authored three book chapters, and given numerous oral and poster presentations to domestic and international audiences in the field of transportation safety in that time.
Her primary goal is to make a significant impact on the health and safety of individuals and populations through injury prevention research. "I am excited and fortunate to have the opportunity to continue to contribute to the important work of CSCRS in my current position at UNC," said Naumann. "I'm thrilled to apply my advanced epidemiologic and systems science methods training in an area that is so stimulating from a research perspective, but also has the potential for quick, tangible, real-world application."
She serves as the Committee Research Coordinator for TRB's Safe Mobility for Older Persons Committee and on the Student and Young Professional Committee for the Society for Advancement of Violence and Injury Research.