CSCRS Student of the Year, Ali Boggs, UTK, honored at annual CUTC banquet
On January 12, 2019, the 2018 Collaborative ​Sciences ​Center ​for ​Road ​Safety Outstanding Student of the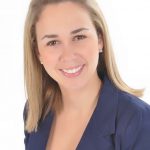 Year, Alexandra "Ali" Boggs, was honored at the Council of University Transportation Center's 28th Annual Outstanding Student of the Year Awards ceremony. The ceremony was held in conjunction with the 2019 Transportation Research Board Annual Meeting in Washington, D.C. Boggs is expected to earn her doctorate in Transportation Engineering from The University of Tennessee, Knoxville, in July 2019.
CSCRS selected Boggs as its outstanding student as part of a U.S. Department of Transportation program honoring students from University Transportation Centers who have demonstrated achievements in academic performance, research, leadership, professionalism and potential future contributions in the transportation field.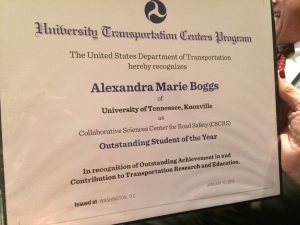 "Ali is an outstanding student and highly deserving of the CSCRS UTC Student of the Year award," says Asad J. Khattak, Ph.D., Beaman Distinguished Professor of Civil & Environmental Engineering at UTK, as her dissertation adviser. "Her research explores how connected and automated vehicles will change safety on our roadways. Her analysis of crashes related to automated vehicles reflects her desire to generate new knowledge and address challenges associated with such new and emerging technologies. Also, Ali is highly dedicated to our educational and professional development mission, reflected in her efforts to spearhead a crash reconstruction summer workshop course to 8th graders. Her leadership is evident in serving as president of the Institute of Transportation Engineers (ITE) student chapter at UTK."
Boggs's main interest is in two critical transportation safety topics: automated vehicle crashes and commercial motor vehicles. Her research includes examining self-driving vehicle crashes and disengagements and commercial vehicle parking shortage. The title of Boggs's dissertation is "Analysis of Automated Vehicle Crashes and Disengagements." A key accomplishment for Boggs in 2018 was managing the development of a week-long, CSCRS-funded crash reconstruction camp for rising 8th and 9th graders called CSI: Crash Scene Investigation.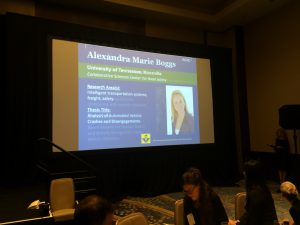 The motivation behind Boggs's passion for transportation engineering is the number of motor vehicle fatalities and injuries. "The victims are mothers, fathers, sisters, brothers, friends, colleagues; simply loved ones who will be missed by numerous people," said Boggs. "With my dissertation and community outreach activities, I hope to contribute to the advancement of transportation safety. I am honored and humbled to receive this prestigious award, and I thank the University of Tennessee faculty and staff, especially Dr. Asad Khattak, for their mentorship and support in my quest for knowledge."
In addition to being a Ph.D. candidate, Boggs is pursuing a master's degree in statistics at UTK and
serves as a graduate teaching assistant and research assistant. She earned a master's in civil engineering from the Florida Institute of Technology. Recently she served as an engineering student trainee in the Office of Highway Safety at the National Transportation Research Board. Boggs has co-authored multiple journal articles and conference papers and given oral and poster presentations. She has earned several honors including the University of Tennessee Chancellor's Fellowship and Lifesavers National Conference Traffic Safety Scholarship.