You're invited to Safety Sunday @ TRB
Going to the Transportation Research Board (TRB) 102nd Annual Meeting in Washington, DC? Please join CSCRS for our Safety Sunday @ TRB reception, Sunday, January 8, 2023, 5 – 6:30 p.m. Eastern time. This event will bring together diverse entities to network and discuss critical themes in transportation safety research and practice. The reception will be held in Marquis Salon 4 (M2) at the Marriott Marquis Washington, DC.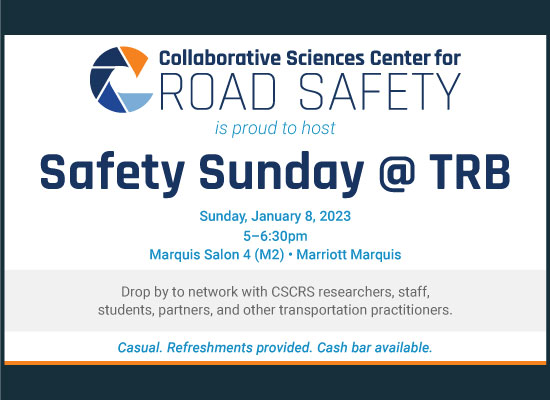 Do you want to know where and when to learn about integrating Safe System principles into road safety while at TRB? This list shows all CSCRS TRB sessions, including workshops, lectern sessions, posters and more, that cover the gamut of Safe System topics.
---
2022 CSCRS Student of the Year, Aqshems Nichols
CSCRS is proud to announce Aqshems Nichols, a University of California, Berkeley (UCB) civil engineering doctoral student with a focus on transportation engineering, as its 2022 Outstanding Student of the Year. Nichols will be honored on January 7, 2023, during the Council of University Transportation Centers (CUTC) Awards Banquet. CSCRS selected Nichols as its outstanding student as part of a U.S. Department of Transportation program honoring students from University Transportation Centers who have demonstrated achievements in academic performance, research, leadership, professionalism, and potential future contributions in the transportation field. Read more about Aqshems.  
---
Brief insights into how to launch a Vision Zero initiative
CSCRS researchers created four new research briefs outlining considerations to launch Vision Zero initiatives. The briefs share research from CSCRS research projects R17: Strengthening Existing and Facilitating New Vision Zero Plans and RR2:US Vision Zero Implementation, and cover the following areas:
The resources are available to assist communities working on Vision Zero initiatives. Other CSCRS resources related to Vision Zero are also available on the R17 project page and Creating Safer Systems and Healthier Communities: Resource Hub.  
---
Systems spotlight: Two CSCRS fall online seminars explore what's wrong and what's right with Safe System implementation
The November and December 2022 Research to Practice Bytes sessions dove deep into how to get Safe Systems both wrong and right. The November 16 session outlined 10 common pitfalls of Safe System implementation, and the December 14 session continued the discussion by answering participants' questions and offering real-life examples of communities innovating their ways to authentic Safe System approaches. Both sessions featured presenters Eric Dumbaugh, Florida Atlantic University (FAU), and Seth LaJeunesse, UNC Highway Safety Research Center (HSRC). Recordings and other materials from these sessions are available on the series website.  
---
Education and professional development: CSCRS showcases multiple learning opportunities
CSCRS continues to provide and participate in a variety of learning activities including:
Krista Nordback, HSRC, presented during the December 1, 2022, Institute of Transportation Engineers (ITE) webinar "Pedestrian and Bicycle Data and Performance Measures." (The recorded course is available for purchase.)
On October 17, 2022, Becky Naumann, UNC Injury Prevention Research Center (IPRC), delivered an in-person seminar at Columbia University on "Integrating Systems Thinking Tools into Road Safety Research and Practice," which highlighted several examples of CSCRS research and was attended by both students and faculty at the university, as well as city and state public health and transportation practitioners.
CSCRS offers recordings and other materials from previous learning sessions, most recently for the Research to Practice Bytes series and the 2021 Safe Systems Summer Learning Series. Find additional recorded sessions on the CSCRS YouTube channel.
---
UNC team to lead Road to Zero Coalition Safe System Working Group
The Road to Zero Coalition asked CSCRS's collaborative UNC team of HSRC, IPRC, and the Department of City and Regional Planning to assume leadership of its Safe System Working Group. CSCRS researchers at UNC have been members of the working group for years under ITE's leadership and have supported the coalition's effort to compile Safe System resources and embed the Safe System concept into roadway safety practice. When leading the working group, the UNC team will aim to disseminate the very best Safe System-aligned practices to practitioners and the public throughout the United States, connect communities to Safe System technical expertise, and dispel myths and identify barriers to Safe System implementation. Other members of the working group include several CSCRS Advisory Board members.
---
---
Other CSCRS highlights
A quick rundown of additional recent CSCRS activities:
---
Come work with us!
CSCRS headquarters HSRC is hiring for two open positions:
Post-Doc Research Associate: This one-year position based in Chapel Hill, NC, will focus on analysis and interpretation of population-based datasets; the development of community-centered, evidence-based transportation safety interventions; and the application of harm reduction principles to drug and alcohol impaired driving. The hiring committee will begin reviewing applications in early 2023.
Research Technician: This limited, three-year position based in Washington, DC, will involve studying trail traffic (primarily bicycling and walking) on the regional trails of the DC metro area in collaboration with the National Parks Service and local city, county, and state transportation and parks departments. The application deadline is January 3, 2023.  
---
CSCRS partner activities and resources
Here is an update on activities and resources from CSCRS partners:
---
CSCRS bookshelf
"Journalists Should Stress Agency in Reporting on Traffic Crashes, States New Media Guidelines," Carlton Reid, Forbes, September 28, 2020 
By Monique Williams
Monique Williams is a graduate communications assistant at HSRC focusing on transportation safety, road safety, and pedestrian safety, along with social media analytics. She is pursuing a master's degree in journalism at the UNC Hussman School of Journalism and Media. In her spare time, she enjoys reading romance novels and writing poetry.
Carlton Reid's timely "Journalists Should Stress Agency in Reporting on Traffic Crashes, States New Media Guidelines" is a necessary read for researchers and journalists who cover road traffic incidents. Reid brings the media perspective to life on traffic safety in his article. He highlights how "agency-less reporting" of road traffic incidents affects public safety perception.
Reid explores news coverage of "car accidents" and the impact of language. He says, "Planes do not slam into the ground accidentally, they crash. However, such language is not always used for road smashes: they are often described as 'accidents,' as though no one was at fault." Essentially, referring to car crashes as "accidents" removes fault or blame from the individual operating the vehicle; therefore, affecting the perception on how road crashes occur. He cites earlier research that contends, "News articles about road crashes referred to a vehicle in 81% of cases but referred to a driver just 19% of the time."
He includes a video that breaks down the verbiage of "crash, not accident" and what it entails. Additionally, Reid points out, "Associated Press Style Guide changed to encourage journalists to use 'crash, collision, or other terms' instead of 'accident.'" Moving forward, Reid encourages journalists to include agency in stories regarding road crashes.
---
Join CSCRS on social media
Like our Facebook page and follow us on Twitter.
Sign up to receive CSCRS news and updates.
CSCRS Crossroads newsletters are archived here.