How would a Safe Systems approach to road safety work in the U.S.?
What is a Safe Systems approach to safety? It depends to whom you're talking, because different audiences view the term in different ways.
In the transportation field, many think of the concept that originated in Sweden in the 1990s and has since been adopted in other countries. A core tenet of this approach is that even though road users make mistakes, these mistakes should not result in death, so the model envisions a roadway system designed to prevent death despite human errors. This perspective also acknowledges that a safe system requires a specific method focusing on the built environment and a proactive approach to address risk.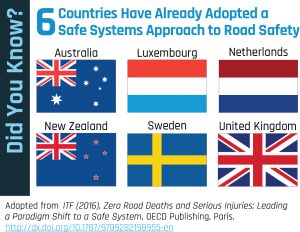 Additionally, "systems thinking" or "systems science" concepts from other disciplines offer an opportunity to expand upon the Swedish approach. In the public health field, systems science requires collaborative problem-solving and directing partners toward a shared vision. The public health community has also developed a robust set of qualitative and quantitative tools and methods to help understand the elements in a complex system.
CSCRS Mission and Goals
CSCRS's mission is to create and exchange knowledge to advance transportation safety through a multidisciplinary, systems-based approach. By engaging perspectives from behavioral, engineering, epidemiological, technological and planning disciplines, CSCRS is implementing new research, education and professional development activities designed to improve safety on U.S. roadways.
These key CSCRS goals outline the Center's core approach:
Safe Systems and systems science principles and approaches are shared, understood, and adopted by traffic safety professionals (traditional and nontraditional) and stakeholders.
Cutting-edge research, tools, data, and resources—compatible with a Safe Systems approach—are developed and utilized by professionals and the public at large to better understand and address existing and emerging road safety issues.
A growing body of students and future leaders are engaged and well-trained in road safety principles, Safe Systems approaches, and systems science methods.
CSCRS research projects and activities broadly include the following:
research on the barriers to implementing a safe system approach and the creation of tools to aid implementation;
development of a systematic safety-based architecture/framework including terminology and components; and
educational opportunities including a lecture series.
For more information on CSCRS's current research projects, visit here.
Safe Systems + systems science
What's at the intersection of Safe Systems and systems science? This handout from the April 2019 Safe Systems Summit provides a brief intro to the core elements of these two guiding frameworks. Combined, they offer a promising new paradigm for advancing road safety.
Additional Resources
Here are some resources that relate to Safe Systems concepts and programs in the U.S. and abroad:
Reports:
News releases or articles:
Webinars:
Here are a few introductory readings on systems thinking and systems science, as well as examples of applying systems thinking to transportation safety issues:
Articles:
Websites:
Webinars
Research articles:

Sterman JD. Learning from evidence in a complex world. Am J Public Health. 2006; 96(3): 505-514.
Luke DA, Stamatakis KA. Systems science in public health: dynamics, networks, agents. Annu Rev Public Health. 2012;33: 357-376.
Vennix JAM. Group model-building: tackling messy problems. Syst Dyn Rev. 1999; 15:379-401.

Books: