2020 CSCRS Student of the Year, Benjamin Bauchwitz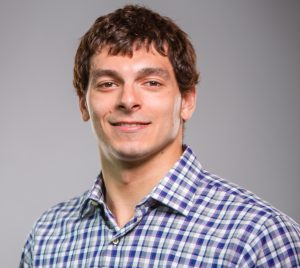 CSCRS is excited to announce Benjamin Bauchwitz, a doctoral student in the Humans and Autonomy Lab (HAL) at Duke University, as its 2020 Outstanding Student of the Year. Bauchwitz was honored on January 6, 2021, during the Council of University Transportation Center's virtual 2021 Awards Banquet. (See him on page 22 in the official awards booklet.)
CSCRS chose Bauchwitz as its outstanding student as part of a U.S. Department of Transportation program honoring students from University Transportation Centers who have demonstrated achievements in academic performance, research, leadership, professionalism, and potential future contributions in the transportation field.
"In just a very short period of time, Ben has developed a model of autonomous car and human driver interaction, designed a complex experiment to collect data to guide this modelling framework, collected the data, written a potential high-impact paper, and also provided data to other researchers that have the potential to dramatically improve their capabilities," said CSCRS researcher Missy Cummings, professor in the Duke Electrical and Computer Engineering Department, Computer Science, the Duke Institute for Brain Sciences, and the director of HAL, in her nomination letter for Bauchwitz. "Students like Ben are extremely rare, and he is most deserving of this award."
Using his model for testing cars with automated driving technologies and driver monitoring systems, Bauchwitz developed a testing protocol that evaluated three Tesla Model 3 autopilots and driver monitoring systems on both a highway and a closed track. He then executed this testing protocol, which required him to build physical environments and oversee a team of students to assist in these tasks.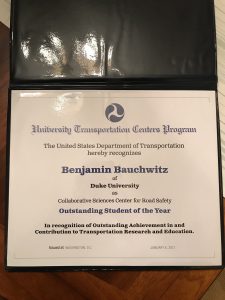 The data resulting from this experiment demonstrated, for the first time in a controlled setting, that an autonomous control system and the related driver monitoring system can perform differently in the same settings, leading to possibly unsafe scenarios. This experimental data will also be used by CSCRS consortium partners at the University of Tennessee, Knoxville (UTK), to help them calibrate simulations for autonomous vehicles.
"I am thrilled and honored to receive this award! The support I've gotten from CSCRS has enabled me to pursue research that I find so rewarding both from a technical standpoint and because of the good it can do for society," said Bauchwitz.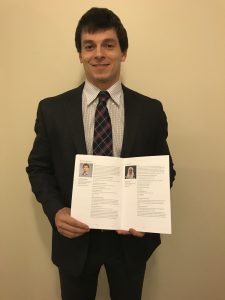 Prior to Duke, Ben conducted intelligent systems research and development at Charles River Analytics in Cambridge, Mass. In 2015 he received his bachelor's degree in Brain and Cognitive Science from the Massachusetts Institute of Technology (MIT), where he served as a research assistant in the Gabrieli Lab, MIT McGovern Institute for Brain Research.
Bauchwitz is expected to graduate in 2023, after which he plans to pursue a career in the public sector.
This is the fourth year that CSCRS has chosen a student of the year. The 2017 student was Becky Naumann of UNC, the 2018 student was Ali Boggs of UTK, and the 2019 student was Mary Wolfe of UNC.